Interview by Tom Hilton - Aldora Britain Records (U.K.), August 2020.
Hi Phil, how are you? It's a pleasure to be chatting to you. Could we start off at the very beginning, what was your first music memory, and could you tell me a little about your musical journey so far?
Listening to my family's 45 singles like Sam Cooke's "Chain Gang" and The Coasters "Poison Ivy" in Houston, Texas where I was born and grew up are my first musical memories. When I was a teenager I began to learn how to play bass, guitar, and harmonica. Not long after that I jumped into the punk / new wave rock scene as it was the easiest and quickest way to become a gigging musician.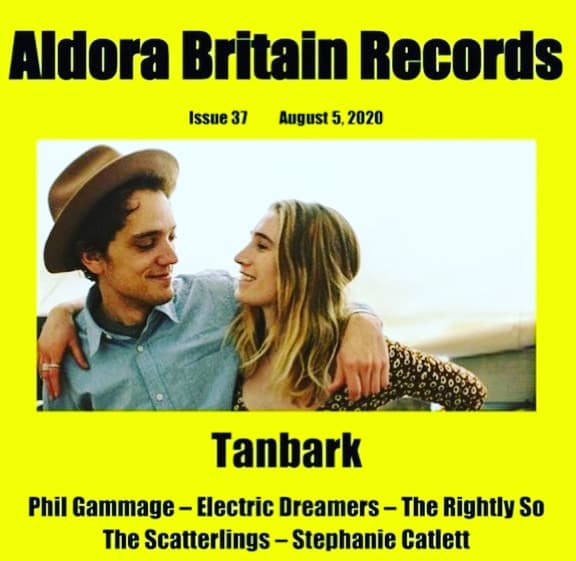 I really found my groove as a songwriter when I signed as a solo artist with New Rose Records (Paris, France) in the 1990s. What a great label that was…. they championed American artists such as myself who were being largely ignored by the music industry here in the U.S. at that time. Alex Chilton, Roky Erickson, Calvin Russell, Elliot Murphy, and so many others. With those New Rose albums I moved away from playing the post-punk rock of earlier days and developed the song writing style I've used since which is now often referred to as Americana and/or roots music. In the 90s I don't believe that genre name even existed. Since then I've kept writing songs, releasing albums, and playing concerts in America and Europe. The past few years have been good ones — I've recorded four studio albums (Adventures in Bluesland, The American Dream, Used Man For Sale, It's All Real Good) and a live album Keeping the Blues Alive with the legendary American folk hero John Sinclair at a venue in Brooklyn, NY. I've been lucky to work some great musicians on these albums.
You've recently put out It's All Real Good. Could we start off with the title? Why did you pick this track as the title track, what's the message behind that album title? Also, can you tell me a little about the making of the album?
I wanted the album title to be positive sounding so I used that song as the title track. Something optimistic as opposed to my previous album's title Used Man For Sale ha ha. I was fortunate to work with producer Tony Mann on this project, and our intent was to record only me singing, playing acoustic guitar, and playing a little playing harmonica the songs. Folky, minimal, and dramatic. We eventually added some great accordion from Kenny Margolis to a few songs, harmony vocals from Michele Butler, percussion from Tony, and more harmonica from David Fleming. The songs were recorded with me playing the studio's fantastic sounding 1970 Gibson Heritage acoustic guitar. That guitar is the musical backbone of every song. The instrumentation is sparse with compact song arrangements. We wanted to avoid the over production you hear on many recordings these days so there aren't layers of instruments… we kept it clean, simple, and direct. Ultimately, this collection is about my songwriting and vocals.
PreFab International Ciné has produced several music videos for the album's songs including "Wandering Stars" and the title track. Most recently a music video for "Hellcat Maggie" premiered on the website Americana U.K. and has been getting a great response. It includes some great footage of silent film era stars Mary Pickford and Lillian Gish.
You have said the album is influenced by the likes of Johnny Cash and blues artists such as John Lee Hooker and Lightnin' Hopkins. Was it always these iconic American sounds that you were aiming for and what appeals to these kinds of artists for you?
Tony and I used Cash's American albums of the early 2000's as a guide in the recording of It's All Real Good. Those albums are just Cash singing and playing acoustic guitar. Both Hooker and Hopkins recorded several solo acoustic guitar albums as well. They're both legends and inspired me to record using that approach.
'Dancing On Top Of The World' has a pretty sentimental subject matter. What's the song about exactly and what prompted you to write this song?
That is a song with a history. The 'world' I'm singing about dancing on top of is the music venue The Greatest Bar on Earth which was located on the 108th floor of the World Trade Center building in New York. I used to perform there regularly with my band to a crowd of serious swing dancers. Lord could they dance! The song describes a couple of fictional characters: Candy and Sam and it captures that scene on a busy night at the 108th floor, it's participants, and their retro culture. In the song I name drop the 1940s jump blues singer Wynonie "Mr. Blues" Harris who is an all-time favorite of mine and also another NYC swing music venue The Super Club. Sadly, The Greatest Bar and the Trade Center building all went down on September 11, 2001 as a result of the terrorist attacks on New York. Gone, but not forgotten.
I'd also like to discuss 'Let Love Begin.' What's the story behind this song?
Originally I wrote that one for a female vocalist I was working with a few years ago. When it came time for me to record it for this most recent album, I went for a vibe similar to the Elvis recording of "Trying To Get To You" which I sometime sing and that Elvis recorded for his famous Sun Sessions in Memphis in the mid-1950s. Of course, when I pattern my song on anothers work it almost always comes out to be something totally different and this one is a great example of that. I love singing and playing it!
What's up next for you Phil?
We've got another music video from the latest album finished and ready for a premiere this summer or fall. "Giveaway" was filmed in Cape May, New Jersey which is a quaint seaside town on the Atlantic Ocean. It's got a great Victorian atmosphere that works so well in the video. Most of the filming was at an Inn built in the 1800s that is rumored to be haunted.
I will be returning to playing live shows at some point. In the meantime, I've been performing weekly live streaming solo on Facebook and Instagram. We've been archiving these on YouTube as The Living Room Sessions. They're also archived at my music site: philgammagemusic.com
QUICKFIRE ROUND
Favourite artist? Elvis Presley
Favourite album? The Velvet Underground Live '69
First gig as audience member? Elvis
Style icon? Jeannie Shrimpton
Favourite film? This week it's "The Last Picture Show"
Favourite up and coming artist? CW Stoneking