Phil Gammage's hosts the new music and culture program Downtown Music Collective, streaming every second Tuesday of the month at 8pm ET on the Green Kill Sessions Media Network YouTube channel. Gammage reviews and discusses curated music, films, and books from the past and present. Music videos, live performance, and interviews with the makers and shakers of the creative world all combine to help create a fast moving and engaging show.
It's a fun 20-30 minutes of thoughtful opinion and conversation that will get you rethinking how you feel about artists and the art they make. Phil brings a fresh insight and he shares with us what he is passionate about and why he feels that way.
Find out more information about the Downtown Music Collective here.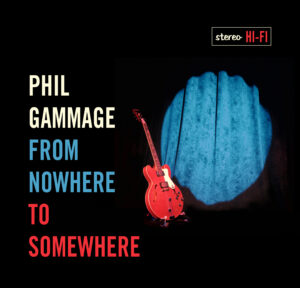 Phil's new 12-song album From Nowhere to Somewhere is for sale on all major digital platforms. The signed CD is available exclusively at Bandcamp. As premiered at Ditty TV, WUSB, CHRW (Ontario), Radio Méga 99.2 (France), KABT FM 100.9 (Hollywood), Cygnus Radio, Radio Brookland (U.K.), Radio Valencia (San Francisco), and more.
Songwriter, vocalist, and guitar slinger, Phil Gammage is a Texas-born and raised artist who now resides in NYC. His new album, From Nowhere to Somewhere, is a robust collection of Americana songs as diverse and heart-felt as the genre itself. Twisting from railroad cars, endless roads, and the folklore of 20th century America, the album draws inspiration from Phil's life as a musician, historian, and fiction writer.
"Top shelf story telling is the key I think, and the songs feel sacred without being precious… not unlike listening to old Hank Williams." ~ Hot Wax Album Reviews

"Phil Gammage has been recording blues albums years in years past, without a dog in the lot. From Nowhere is a specially strong collection of Americana with Presley-ish vocals." ~ Rock NYC

"The music and lyrics evoke an image of a vanishing America — one of shiftless men and women who criss cross the country by rail and connect with other people only to abandon them when they feel the emotional cost is too high." ~ Americana Highways
Music videos from the new album as featured at Americana Highways and DittyTV.